Gold Savings Account...Limited Time Free Gram of Gold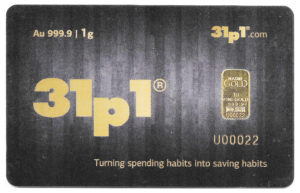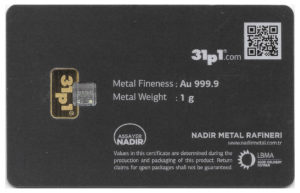 Click here for free gold with sign up. 
When you join my friends who own 31P1 Gold Company A USA company you can share a 21st century way for you and your family to save for your future. 
I am personally saving in this way and right now is the best time ever to start saving along with me because you can start your individual gold savings account right now for FREE. By setting up your account today you will also start off with a free gram of gold.  Click on this link... Click here for free gold with sign up.  ...as long as you sign up for a personal savings account through our Facebook offer the link provided will take you to the 31P1 website and be sure to use my williamgregory@31p1.com email as the referral.  I want you to be rich! 
Coming soon... we are considering hiding a one ounce card.
Metal Finess = au 999.9
Metal Finess = au 999.9
We would like everyone to find gold
We are definitely placing two 1 gram cards in our clues interpretation search areas. It is a bit like geocaching. let us know what you think. We are open to feedback. Only three more people need to sign up at 31P1 to make this happen.
Start saving gold! Join Us at 31p1.com Use referral ID # 9569